We are a group of Edwardsville citizens calling upon the city to remove the statue of Ninian Edwards from its place of veneration in the downtown City Plaza and relocate it to an educational setting museum or less public city space, to be displayed with contextual information describing the harmful historical actions of Ninian Edwards against enslaved persons and Native Americans.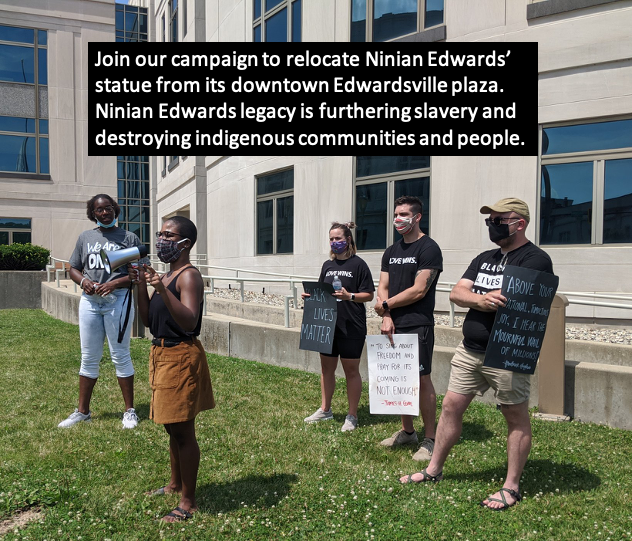 ---
Background: About a dozen years ago the City of Edwardsville named a plaza Ninian Edwards plaza and put up a statue of Ninian Edwards (literally on a pedestal). The group is asking for the statue to be relocated to an educational site (like the Benjamin Stephenson House or the Madison County Historical Museum) and to add information that explains Ninian Edwards' history more fully. The group also advocated for re-naming the plaza, which the city did in 2020 (from Ninian Edwards Plaza to City Plaza).

Edwards was a territorial governor and state governor. Slavery was technically illegal in Illinois, but Edwards brought enslaved people here anyway when he moved here. Illinois had a system of indentured servitude that was used as de facto slavery, and the Illinois legislature passed a bill to end that practice, but Edwards vetoed the bill, leaving de facto slavery in place in Illinois for many more years than it otherwise would have been. Edwards was also a leader in helping kill Native Americans and destroying Native American communities. His attacks included villages with native leaders who were friendly to the United States (which the U.S. president was unhappy with). We believe Edwards does not deserve the type of honor this plaza and statue communicate and that having this decontextualized statue in the heart of our downtown sends the wrong message about what our community values are.
---
Sign our petition here: https://sign.moveon.org/petitions/remove-ninian-edwards-statue

Learn more through fora/speakers here: https://ouredwardsville.com/education/
See mayoral and city council candidate responses to our candidate questionnaire here: https://ouredwardsville.com/2021evillecandidatepositions/